Don't lose your Ash Trees in the upcoming Spring or Summer because of Emerald Ash Borer!

Emerald Ash Borer is responsible for killing millions of Ash Trees throughout the country. The Emerald Ash Borer, which is destroying Ash Trees in a large swath of the nation, has apparently also spread to different types of trees such as White Fringe Trees, Oak Trees, Elm Trees, and other Ornamental Trees, according to researchers. These trees grow wild in the United States from New Jersey south to Florida and west to Oklahoma and Texas.

In December of 2018, the Emerald Ash Borer was confirmed in Tarrant County, Fort Worth, TX, Southlake, TX, Flower Mound, TX, and Bedford, TX.

In May of 2020, the Emerald Ash Borer was confirmed in Denton County, Roanoke, TX, Argyle, TX, and Copper Canyon, TX.

Dr. Bob White is TDA licensed to treat and save your trees in Texas from Emerald Ash Borer!
Texas #1 Tree Saving Specialist!
Dr. Bob White has been doctoring, treating, and saving trees and shrubs all over the
state of Texas for over a half-century.
---
Texas Residents, stop being misled about Oak Wilt disease in your oak trees, that there is no help or possibility of a cure. That is NOT true! Stop Cutting Down Your Oak Trees!! Do the math and read the facts!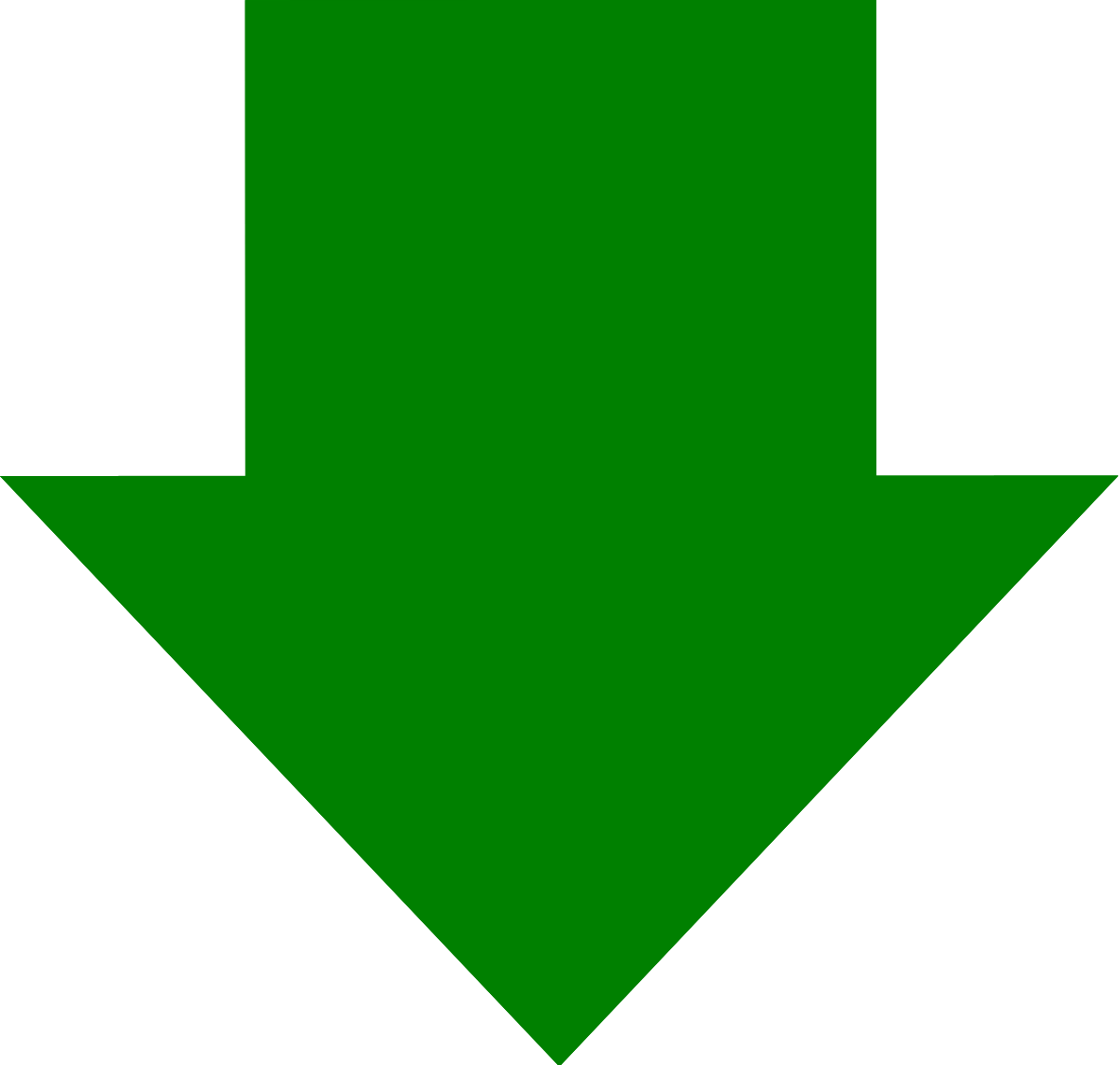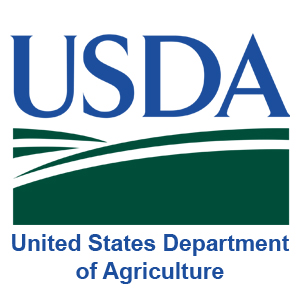 Federal law and regulations require any person who applies or supervises the use of restricted-use pesticides (RUPs) to be certified as a private or commercial applicator.
BW Insect Control And Tree Care specializes in the cultivation and care of trees and shrubs, diagnosis, treatment, prevention of tree disease, and pest control.

Aborist/Certified Arborist or Applicators for hire who plan to apply any pesticides, fungicide, or miticide (regardless of use classification) to plants, trees, shrubs, grass, or other horticultural plants, must be licensed by either the Texas Department of Agriculture 3A ag category or the Structural Pest Control Service (SPCS).

Before you pay for high-cost removal or have your trees or shrubs cut down, give Certified Commercial Pesticide Applicator Dr. Bob White a call; you can rest assured the job will get done right.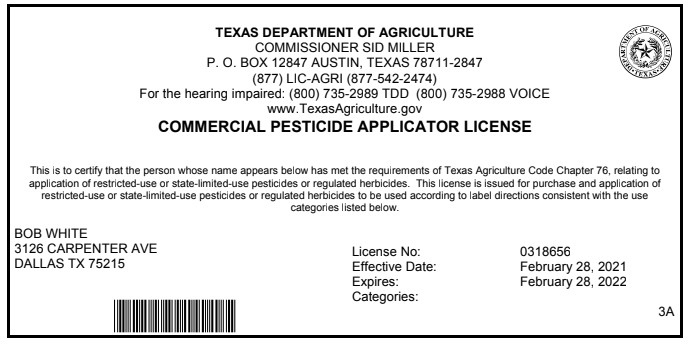 ---
"Treat, Protect and Maintain Trees & Shrubs - I am blown away!!! My Oak
tree came back so healthy that it is the best looking tree on the block. I have pictures to prove it!!
Well, it will not let me share my picture. Trust me, one happy lady!! It came back just as Bob said it would!!!!"
Katharine M. (Garland, TX 4/6/2021)
---
After my neighbor had about 15 trees cut down due to Oak Wilt Disease,
I didn't expect the same done to my trees. A friend of mine referred Dr. Bob White after he had preserved
his trees. Calling Dr. Bob White was the best decision I could have made!
Jason Ensign
---
Bob White is the best in the business hands down.I've used him for over 10 years to treat large trees and shrubs at both my residence and commercial property. We have several 50-year-old oaks which Bob has saved from serious insect disease on two occasions. I have a 40-year-old pecan tree on my business property which everyone thought was dead. It had lost all its leaves by early September and was dripping sap. Bob told me not to worry and by the next spring, it was in great shape. That was 3 years ago and everyone that comes by our business comments on our beautiful pecan tree. My son also had a very expensive oak in his front yard which Bob rescued after it lost most of its leaves in early spring. Bottom line, if you have any kind of tree issue no matter how bad, this man can fix it.
Don Schreiber (6/4/2015)
---
Project: Treat, Protect and Maintain Trees & Shrubs -
Dr Bob White was a joy to work with. He came to the house, evaluated our trees and pointed out
other concerns with the vegetation in the yard. We were afraid we were going to lose our live
Oak trees. After his assessment, he recommended a particular plan for the trees and if desired,
treating the other concerns in the yard. We opted for the treatment of all of our plants/bushes
and trees. He completed the treatments that day. Now, after two months we have trees that look
healthy and a yard that has never looked better. I am so thankful that we were able to save our
lovely trees and make our yard look so nice. I thought his service was wonderful.
George M. (Prosper, TX - 07/02/2020)
---
Project: Treat, Protect and Maintain Trees & Shrubs -
We have a huge, beautiful oak tree in our front yard that Dr. Bob White saved 3 years ago for $2000,
which we considered more than a fair price for its size. So, when we noticed leaves curling and branches
snapping, we called him knowing he would do a great job. We have seen neighbors that have lost their big
trees and large limbs to the same ailment for the last few years. He was professional, the service was
quick, and he only charged us $2000 to save it again. (The same price as a few years before.) We'd much
rather pay to save it than pay to have it cut down and removed!
Buz & Jennifer Rountree (Richardson, TX 10/2020)
---
Project: Treat, Protect and Maintain Trees & Shrubs -
Dr White was just awesome! He explained all services, his prices were reasonable and he was professional
& fun to work with. Highly recommend. He is also following up with us in the fall. We have a massive Oak
tree that needed help, and Dr. White was there to help!
Jacqueline P. (Corsicana, TX - 06/20/2020)
---
My name is Norman Caswell and live at 6769 Rockridge Trail, Aubrey, Texas.
Dr. Bob White came to my house to treat 44 oak trees that was in extreme distress. I had previously lost 23
of the same type oak trees that had died and had to be removed. Dr. White treated the 44 remaining trees in
my yard and all survived. He returned today on April 13th, 2017 for a second treatment to continue the full
recovery of those 44 trees. I would certainly recommend Dr. Bob White to anyone who has trees in distress
from various and numerous conditions. I also believe the fees that Dr. White charges are very reasonable.
Norman Caswell (Aubrey, TX - 4/2017)
---
I thank you, and the squirrels and birds thank you, for saving our trees, Dr. Bob! I was told by the tree man that my 60-year-old elm tree was dead and needed to be cut down immediately. It had sad, gnarl branches and only a few dried up leaves. I believed the guy...the tree looked really bad. The tree had been a part of our family since we were kids and all of us were so sad to see it cut down. I told the tree guy that I remembered an awesome Tree Doctor that had saved my son's ten trees in Poetry, TX 5 years ago. We lost contact and had forgotten his name. He told me that he actually knew that man. He said that it was Dr. Bob White and that he was in the Dallas area. I didn't hesitate to call this amazing tree expert, and he came over that same day. I'll never forget his kindness and encouraging words when he assured me that he could save my tree. He and his crew arrived the next morning and were very professional and thorough. The tree has been fully restored and is so beautiful! Everyone marvels at his expertise, and I am so happy that I was able to obtain his valuable second opinion. Thank you, Dr. Bob!
Bobbie Ewing (Dallas, TX - 4/2017)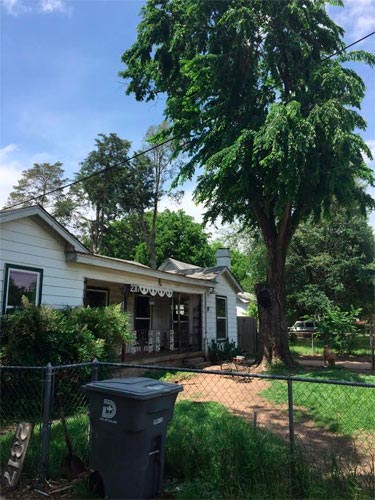 ---
My tree limbs were cut by a yard man on (4) trees. Insects got inside, bore holes and ash/green fungus covered them all.
I called B.W. Pest Control and in (1) month the fungus started to leave. Now they are fine. The trees are fine full and were
irreplaceable. B.W. was prompt, professional and his price was very reasonable. If I have any tree problems I'll call him first!
Pastor Jefferson (Dallas County)
---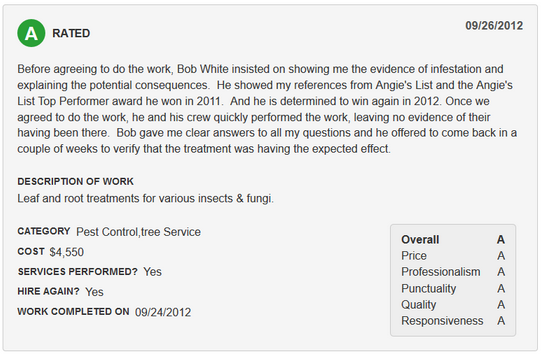 George Suhorsky - 09/26/2012
---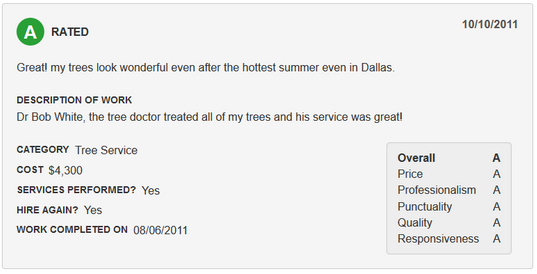 Ron Hay -10/10/2011
---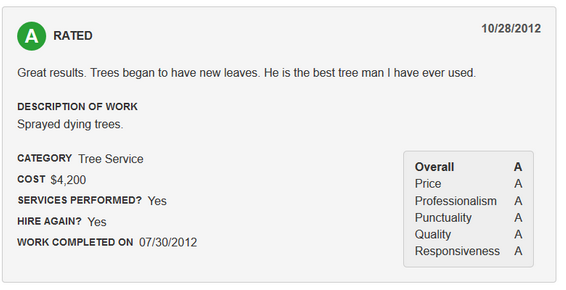 Linda Nelson - 10/28/2012
---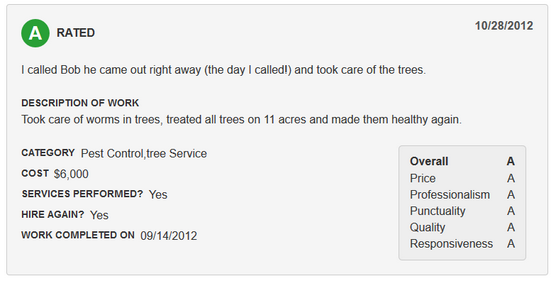 Thomas Enloe - 10/28/2012
---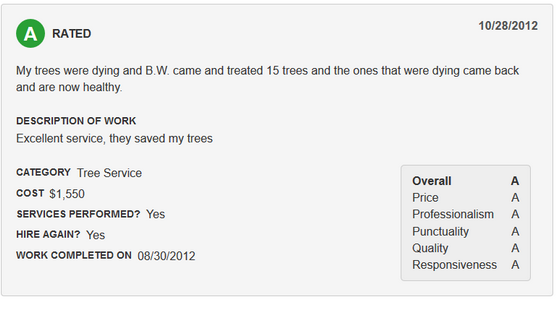 Joan Montgomery - 10/28/2012
---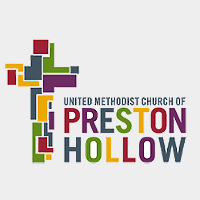 Preston Hollow United Methodist Church
Dr. Bob White did a great job taking care of and saving our 14 sick trees at Preston Hollow
United Methodist Church. He followed up a year later to make sure all was good at no additional cost.
Maria Oakes 6315 Walnut Hill Lane Dallas, TX 75230
---
More Satisfied Texas

★★★★★


Rated Reviews
✔ Katharine M. (Garland, TX 10/2020)
Project: Treat, Protect and Maintain Trees & Shrubs - Dr. Bob treated our Red Oak Oct 6, 2020. Two weeks later, I saw where the bugs were still eating my tree. I admit I didn't know what to look for, so I called Dr. Bob and Mike and told them what was happening. They came out today and retreated at no cost and took the time to point out the regained health of our tree that I did not see. I would recommend him highly, and if there were 20 stars to give, I would. Such a charming gentleman to work with, and Mike, his sidekick, is so patient. Will I hire them again? Let there be no doubt!! No chainsaws here! Just a beautiful, healthy tree. Thank you for your service to our country and our trees! A+ in my book!!
✔ Catherine T. (Desoto, TX - 07/14/2020)
Project: Treat, Protect and Maintain Trees & Shrubs - In April 2020, I contacted Mr. White because something was eating up my Texas Ash tree. He quickly diagnosed the problem sight-unseen based upon my description of the damage to my tree. I made an appointment and Mr. White came out and treated my tree plus two others. Within a week, I had about 12 inches of new leaves sprouting from most of the branches. Beautiful, green, perfect leaves, not the curled up brown damaged leaves that had proliferated the tree due to an infestation of some type of insect that had taken over the tree. Now, I have clusters and clusters of full leaves, green and lush. My tree is starting to be full of leaves again the way it was before the infestation of this particular insect. I am so grateful for Mr. White and his service. I have no doubt he saved my tree.
✔ Dc G. (Forney, TX - 06/24/2020)
Project: Treat, Protect and Maintain Trees & Shrubs - The Tree Doctor Mr. White is very dependable and knowledgeable. We really appreciate them and how they came out to my house again when I had another question. He eased my concerns about my Oak Tree. Thank you and your helpers.
✔ Christina B. (Dallas, TX - 06/17/2020)
Project: Treat, Protect and Maintain Trees & Shrubs - Bob did an excellent job educating me as to what was going on with my trees and shrubs. I liked the fact that he said that he doesn't even have a chain saw.
✔ Alicia B. (Fairfield, TX - 04/23/2020)
Project: Treat, Protect and Maintain Trees & Shrubs - He stands by his work, he came in and did exactly what he said. Didn't care that he had to travel in order to complete the job!
✔ Joe C. (Burleson, TX - 09/09/2019)
Project: Treat, Protect and Maintain Trees & Shrubs - Friendly, knowledgeable, very prompt and held his word.
✔ Tyrone & Sharon G. (Cedar Hill, TX - 09/01/2019)
Project: Treat, Protect and Maintain Trees & Shrubs - Charlie @ Cutting Edge was very friendly, professional, and fair. He was very respectful of our time and honest upfront about the work week needed done. They arrived as promised and did an exceptional job! I will hire again as needed.
✔ Kim K. (Granbury, TX - 08/25/2019)
Project: Treat, Protect and Maintain Trees & Shrubs - Very professional service.
✔ Shannon P. (Coppell, TX - 08/12/2019)
Project: Treat, Protect and Maintain Trees & Shrubs - He was very professional and offered me a home remedy to try first!
✔ Tom & Sherry C. (Richardson, TX - 08/06/2019)
Project: Treat, Protect and Maintain Trees & Shrubs - Hopefully their tree treatment will save my trees. DR Bob seems to know his stuff. Expensive, but maybe it's worth it.
✔Ron P. (Mineral Wells, TX - 07/31/2019)
Project: Treat, Protect and Maintain Trees & Shrubs - Very happy with the service. He was out the next day and took care of 32 trees. He was professional on time great service.
✔ Yvette M. (Heartland, TX - 07/25/2019)
Project: Treat, Protect and Maintain Trees & Shrubs - Very professional.
✔ Paul P. (Mckinney, TX - 07/14/2019)
Project: Treat, Protect and Maintain Trees & Shrubs - Dudes been doing this for 40 years. He's in the business of saving your tree, not cutting it down. He was honest, upfront about what it would take to save the tree, and the price was reasonable. Will be calling him again for my tree issues from now on.
✔ Jim K. (Cedar Hill, TX - 07/09/2019)
Project: Treat, Protect and Maintain Trees & Shrubs - This guy knows trees inside and out. It is far cheaper to take care of them than it is to remove or replace them.
✔ Paul A. (Red Oak, TX - 07/08/2019)
Project: Treat, Protect and Maintain Trees & Shrubs - I had a very pleasant experience. Bob gave me great service at a fair price. What more could I ask for.
✔ Bren Sidereas (Rockwall, TX - 2016 & 2018)
My 10 Leyland Cypress trees were in bad shape (lots of brownback discoloration and losing their leaves) at the start of the summer of 2016, after 2 years of drought, and insects feeding on the trees' natural sap nutrients essentially starving them. Dr. Bob was next door treating my neighbor's trees and noticed my sick trees and explained to me exactly what was wrong with them. He then treated them by pumping a 400 gal mixture of insecticide, fungicide, and nutrients directly into the root system. My trees and my neighbor's trees were better by the end of the summer. He even came back to check! I recently called him back this May 2018, now 2 years later with the same "trees are in stress" problem. The insects had returned inside the trees where they had laid their eggs, after an unusually cold and damp to quickly hot weather Spring. The trees weren't in as bad of shape as before, but again showing some discoloration, and I wanted him to treat again. The man knows and cares about trees!! I highly recommend him.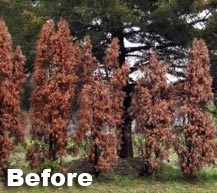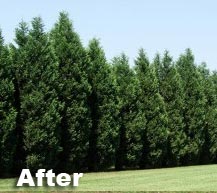 ✔ Anna (Rowlett, TX - 11/2017)
Dr. Bob continues to keep my trees strong and healthy. Prompt courteous service and knows his trees. They had bugs and needed nutrients. He previously took care of my red oak and it has just flourished. Thank you so much!
✔ Don Schreiber (Southlake, TX - 4/2017)
This is Don Schreiber with yet another testimonial. Since the last time I wrote in 2013 both my sons have purchased property in the Dallas area, and we have relocated to a new office building in Southlake. I now have Bob taking care of my home, office property, and both sons have Bob treating the trees on their respective lots. All of us could not be happier with the results. Just this spring Bob saved two pear trees on our office property that were in very poor shape and Bob brought them back. There is no one in the Dallas area that knows more about trees and how to save them than DR. Bob White!
✔ Ray Hambrick (Frisco, TX - 3/2017)
I first had the pleasure of meeting Doc White about five years ago when he was doing an application for a neighbor Mr. White took time to explain the problems my trees were having and then detailed what should be done to remedy the problems, he treated all of the trees on my 1.5 acre property, he explained to me exactly what I could expect from the treatments he did and within a couple of weeks my trees looked better than they ever had. Just recently I noticed the woodpeckers were active on some trees and my live oaks was shedding more leaves than normal, plus with the drought of previous years and then last years abnormal rains I knew I who to call. Doc White and his men responded quickly and once again provided me the help I required.
✔ Steven and Crystal (Flower Mound, TX - 3/2017)
3 or 4 years ago my husband Steven and I were having discoloration problems with our large Italian & Leyland Cypress tress. We have invested so much in our tree, we love them and didn't want them to die. We have contacted many landscape contractors as well as a certified arborist and they told us there wasn't anything we can do and no cure for Seiridium Canker disease or spider mites. We looked on the web and found Dr. Bob White who was able to come and diagnose and treat our Italian and Leyland Cypress trees. The treatment that he used saved our trees. Due to bad weather in the last 2 to 4 years my husband has noticed that our trees were stressing and again had discoloration. So we called Dr. Bob White owner of BW Insect Control And Tree Care located in Dallas TX. We knew he can and will fix our problem with our Italian and Leyland Cypress trees and we are very pleased & satisfied with the results. Thanks again Dr. Bob White for saving our trees!)
✔ Dr. Jobe Martin (8/13/15)
Thank you again for coming so quickly Dr. Bob! We highly recommend Dr. Bob and his arboreal services!! Dr. Bob has been a lifesaver for our trees, shrubbery, and grass. Truly we have some of the healthiest and largest trees in the neighborhood and we believe that this is definitely as a result of Dr. Bob's care for them. We have used Dr. Bob for the last 4 years and know that his plant formula really works. In addition to the blessing of having a healthy yard, we have also been greatly educated through Dr. Bob's wealth of knowledge concerning plants which he kindly gives to his clients as he explains why their plants are sick and how they can be helped. Dr. Bob really cares for people and their concerns about their plant life. He is delightful, helpful, and knowledgeable! He makes good his promises! The Martin Family (Rockwall, Texas)
✔ Tamara (Westlake, TX - 3/2017)
I have lovely Italian Cypress trees in my yard, I water them and give them love. Which is why I couldn't understand why they were getting sick. I did a lot of research and found out that Italian Cypress have problems with Seiridium Canker disease, spider mites, and other insects. I called a tree service company and they told me that they were dead and to cut them down. I was heartbroken and I wasn't going to accept that. I found out later that there is a trees doctor that is very informal. He came out to my property and reassured me that my Italian Cypress was not dead and he could and would save my trees. I'm so happy I did not cut my trees, and now they are better than ever and growing. Thank you Mr. Bob white and your wonderful company BW Insect Control And Tree Care)
✔ Lanny and Judy Gouge (Wylie TX - 2017)
We have used Dr. White for several years to treat our trees and shrubs. We are very happy with the results. He has been instrumental in saving our lands. We highly recommend Dr. White.
✔ Jim & Elizabeth (South Frisco, TX - 3/2017)
Dr. Bob, We can't thank you enough for saving our beautiful red maple last year. After your treatment we saw tremendous improvement in all our shrubs and trees. You saved our investment in landscaping and we plan on using you exclusively going forward.
✔ Carol Placido (Highland Village - 2015)
Dr. Bob White is a tree saver without a doubt! He has serviced my extensive landscaping over the past few years and has done what other companies HAVE NOT been able to do. I highly recommend him.
✔ The Ramsden Family (Duncanville, TX)
We HIGHLY recommend Dr. Bob White for all your tree care needs. After a lot of money and numerous visits from other "tree care company experts", we were put in touch with Dr. Bob White. He was successful in saving our 100+ year old tree and breathing life into another troubled tree! We'll never call any other tree expert again other than Dr. Bob White!
✔ Norm & Patsy Glaze (Sunnyvale, TX)
Bob White treated 8 trees for us, one being a 35-year-old Live Oak with beetles and an 11-year-old Plum tree that never produced editable plums that were free of insects. We now have a healthy Live Oak and a healthy Plumtree. We just finished picking 25 pounds of plums with no blemishes. Several friends told us that they were the best plums that they had ever eaten. We are so happy to have found BW Insect Control & Tree Care as it is very difficult to find anyone that is knowledgeable about tree and shrub care. Thank You, Dr. Bob, Thank You, Patsy Glaze
✔ Daveda Morris
Dr. Bob saw my trees in need and stopped by to tell me about it. We had no idea they were sick and opted for his treatment. He serviced them same day AND stopped by again a few weeks later to check on them and see how they were doing. For the first time since we bought our house 3 years ago, we love our trees! After Dr. Bob's treatment, they seemed to have come to life and have never looked more beautiful!
✔ Anonymous
After noticing our trees and flowers (roses) were not doing so well, we called several companies in our area. The only person that responded was Dr. Bob. He came out the same day and called me and discussed all the issues that we were having. I had him treat our property. He came by my office to discuss my issues and sat down with me to provide available treatment options. Most of my trees were over 15 years old or older, and I just could not afford to lose them. Yes, I would recommend his company and service for your landscape needs. Fair and honest. Thanks for everything.
✔ The Houston Family (Lancaster, TX)
On behalf of my family, we would like to thank BW Insect Control & Tree Care for taking care of us. Our trees were dying, leaning, and full of insects. We thought there was no help until you all arrived. Our trees now have new life! They are blossoming and ready for the summer to come and give us shade! Thank you BW Insect Control & Tree Care. Thank you Dr. BOB!!!!
---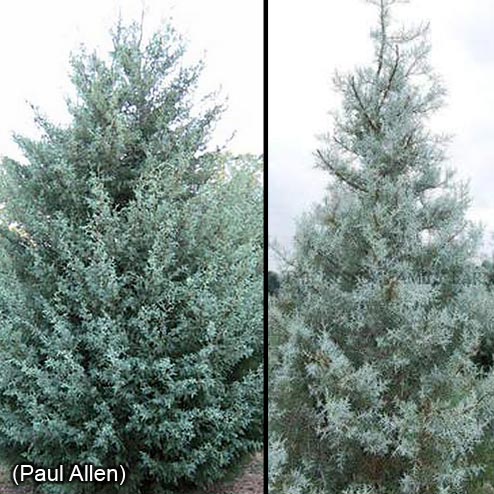 ✔ Paul Allen (Ovilla, TX - 7/2019)
My husband and I had Dr. Bob treat our trees and shrubs because many of our trees were dying. We were amazed at the difference. Our trees are thriving! We really are happy. He is efficient and honest! Dr. Bob gave me great service at a fair price. He is now my arborist for life.
---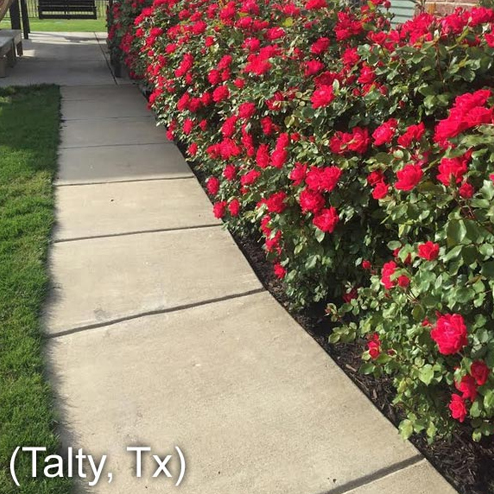 ✔ (Talty, TX)
We live in Talty. Dr Bob treated our trees and shrubs. Our roses had Rosette Disease and were dying. They came back better than ever. Here is a picture!
---
✔ Kathy Moody (Forney, TX)
My husband and I had Dr. Bob treat our trees and shrubs. Many of our trees were dying, we were amazed at the difference, our trees are thriving! We really are happy. He is efficient and honest!
✔ Dr. Roy and Barbara Yamada, RN (Granbury, TX)
This company, this man, Dr. Bob White is incredible! Out trees are healthy and disease free this year. Thanks to Bob! You don't meet people like him every day and Thank God we did ! Best service ever. Highly recommend.
✔ Betsabeth Lugo ( Coppell, TX - 4/17/2019)
Dr. Bob is very good and knowledgeable about trees. Last summer many of my trees were showing signs of stress. I have a property with numerous trees and I was very concerned about a very old tree that had browning leaves. I feared that it was oak wilt. I am not sure that it was, but it really looked like it. I thought I was going to lose my tree, which in my estimation is about 80 years old. Dr. Bob came and treated that tree and the others and right now they look very healthy. Even the tree I thought would die is doing really well. Right now Dr. Bob is treating that tree to give it another treatment so that it is strong for the rigor of the summer. I truly believe that Dr. White helped my tree survive, and gave my other trees a needed boost.
✔ J. Montgomery (Parker County)
Excellent service! They saved my trees! My trees were dying and B.W. came and treated 15 trees and the ones that were dying came back and are now healthy!
✔ Mr. & Mrs. Halbrook (Weatherford, County)
Excellent service and my trees are surviving well. Had bores and trees looked sick but B.W. took care of them and now they are healthy!
---
Angie's List Satisfied Customer Reviews
✔ Jerry Galloway (Rowlett County) *Approximate Cost: $1,150.00
Provided root treatment for three trees (1 red oak, 1 live oak & 1 silver leaf maple) to both roots feed the trees and kill infections inside the trees - particularly the silver leaf maple. The Silver Leaf Maple is about 26 years old and I was about ready to cut it down. Bob White convinced me to allow him to treat the tree September 2012 but told me it would talk until the spring (2013) to see the difference. Both of the Oaks are substantially healthier and greener than similar trees on my street. The Silver Leaf Maple appears to be rebounding very well, and if I can save this very old tree, then I will be very pleased and surprised. And right now - it looks as though it will do well. Thanks Bob.
✔ T. Emloe (Rockwall County)
Took care of worms in trees. Treated all trees on 11 ACRES and made them healthy again. I called and he came out right away (the day I called) and took care of the trees.
✔ Mr. Martin (Rowlett County)
Treated trees, grass & shrubs. Great Job! Saved dying trees!
✔ Mrs. James (Aledo)
Sprayed trees & bushes, came as soon as I called on Friday at 5 p.m. for insects. Came out twice to check on everything! Saved my very sick trees they are all better now! Thanks B.W!
✔ E. Mc Cart. (Rockwall)
Insecticide, fungicide, fertilized and moisture controlled the entire garden. New growth on all trees and shrubs. Pests are now non-existent. Great Job!
✔ Mrs. Nelson (Coppell County)
Sprayed dying trees. Great results, trees began to have new leaves. He is the BEST tree man I ever used!
✔ Mr. Craft (Rowlett)
Fertilized trees and saved them. Sprayed bug killer and did great on palms! Did a great job!